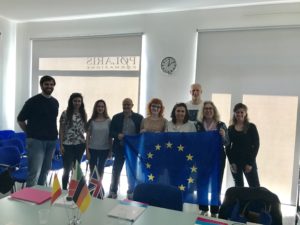 Dal 12 al 14 ottobre LKL ha ospitato il terzo meeting transnazionale del progetto Erasmus+ Youth "Gamification- ICT to Play, Play to Learn". Le delegazioni italiane, spagnola, polacca e turca hanno analizzato i risultati e le attività del progetto già realizzate ed hanno discusso su quelle da realizzare.
Inoltre ospiti dell'IIS Pantini-Pudente nell'aula Auditorium dell'Istituto, insieme ai ragazzi ed ai docenti di lingua inglese del Pantini-Pudente, hanno visionato i 4 progetti di formazione tramite la Gamification realizzati dagli youth workers nell'ambito del progetto.
Maggiori info sul progetto si possono trovare qui.